AKTUELLT JUST NU
China is set to spend US$411 billion on 5G mobile networks
19/6 2017 10:00
Mainland Chinese 5G investments will span 2020 to 2030, benefiting domestic network and smartphone suppliers
Mainland China is expected to see total Investments on 5G mobile networks reach 2.8 trillion yuan (US $ 411 billion) in the period from 2020 to 2030, whichcould land the country's most expensive build-out of telecommunications infrastructure.
A 5G study published cargo week by the China Academy of Information and Communications Technology, The Research arm of the Ministry of Industry and Information Technology (MIIT), forecast the combined 5G expenditure of the Three domesticated Network Operators to hit a peak of 313.3 billion yuan the 2023rd
The Research Unit finns Predicted That in 2025 the 5G market would account for 1.1 trillion yuan, or 3.2 per cent of the mainland's gross domestic product for That Year.
"We believe this paper represents the government's official position in 5G, and its analysis largely Explains Why China will aggressively support 5G roll-out," Jefferies equity analyst Edison Lee said.
Jefferies had EARLIER projected significant 5G Capital Expenditure for China Mobile, China Unicom and China Telecom, starting from 2019 and Reaching an Estimated total of 1.2 trillion yuan village by 2025.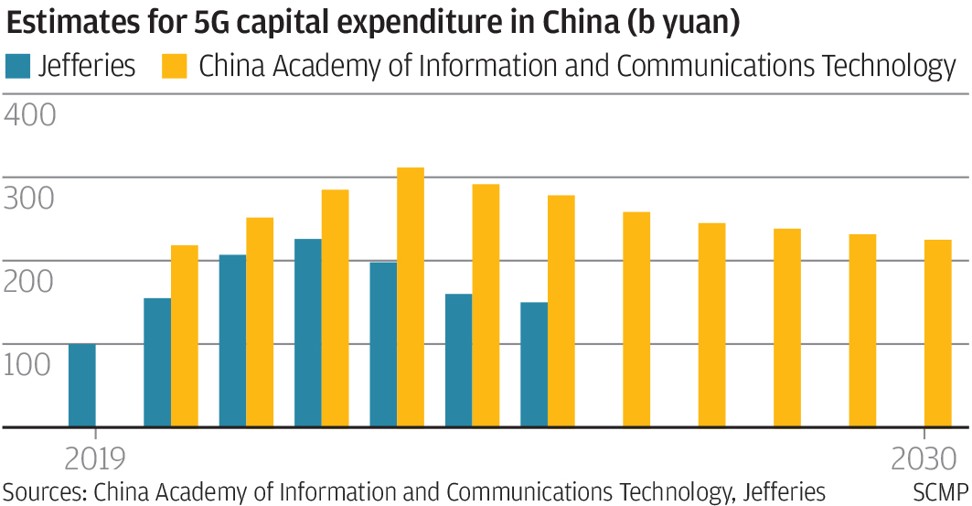 Mainland China, the World's Largest Smartphone Market, also has the biggest 4G market, with a total of 843.7 million 4G subscribers as of April 30
Based on the research arm of MIIT's lofty estimates, the aggressive roll-out of 5G Infrastructure Could See The mainland've become the world's biggest 5G market by the next decade.
Total 5G subscribers on the mainland are forecast to reach 588.3 million by 2022, up from 31.9 million in 2019, According To Jefferies' Lee.
The three groups most likely to benefit from a much-anticipated 5G windfall Are The Network Equipment and smartphone suppliers, Internet companies and application developers, and telecommunications operators, of according to MIIT Research Division.
It Estimated That the 5G-related revenue of telecommunications equipment and handset makers, including mainland heavyweights Huawei Technologies and ZTE Corp , would total 17.5 trillion yuan over the period from 2020 to 2030th
The second group includes e-commerce and online streaming video service providers, mobile games and telemedicine application developers, and specialist software companies in areas like autonomous driving. They are expected to generate 10.7 trillion yuan in total 5G-related turnover village by 2030.
China Mobile , Unicom and China Telecom are predicted to generate 7.9 trillion yuan in combined 5G-related revenue from 2020 to 2030th
Recognized as the latest advancement in mobile communications, 5G is expected to support 1 million connected devices per square kilometer; victim 1 millisecond latency (the amount of time a packet of data takes to get from one point to another); generate higher energy and spectral efficiency; and deliver up to 20 Gigabits per second of data peak download rate for each cell site.
"The whole reason why 5G is a much more complicated technology than 3G and 4G Is that it needs to deal with different user environments," Lee said recently.
5G will support applications like augmented and virtual reality entertainment and long-distance education; machine-to-machine communications, for large-scale implementation of so-called Internet of Things devices; and ultra-reliable, low-latency communications for applications like tele-surgery and self-driving cars.
Relaterat