AKTUELLT JUST NU
China's Answer to the World Bank Pledges to Do More by Itself
18/6 2017 10:00
China-led bank welcomes new members, plans to double lending
AIIB confident it can raise funds from global markets
The Asian Infrastructure Investment Bank pledged to embark on more projects as the sole lender, as it boosts its membership and Manages an investment pipeline of up to $ 7 billion.
The fledgling Development Bank, now in its second year, has already taken on projects by itself and it will do more going forward, AIIB President Jin Liqun said on Saturday in Jeju, South Korea, Following the department's second annual conference. Still, working together with other lenders is better Particularly on large infrastructure deals, he said.
Of the 16 projects approved by the AIIB since it started in January 2016, around three quarters havebeen co-Financed with other development lenders including the World Bank, the Asian Development Bank, and the European Bank for Reconstruction and Development.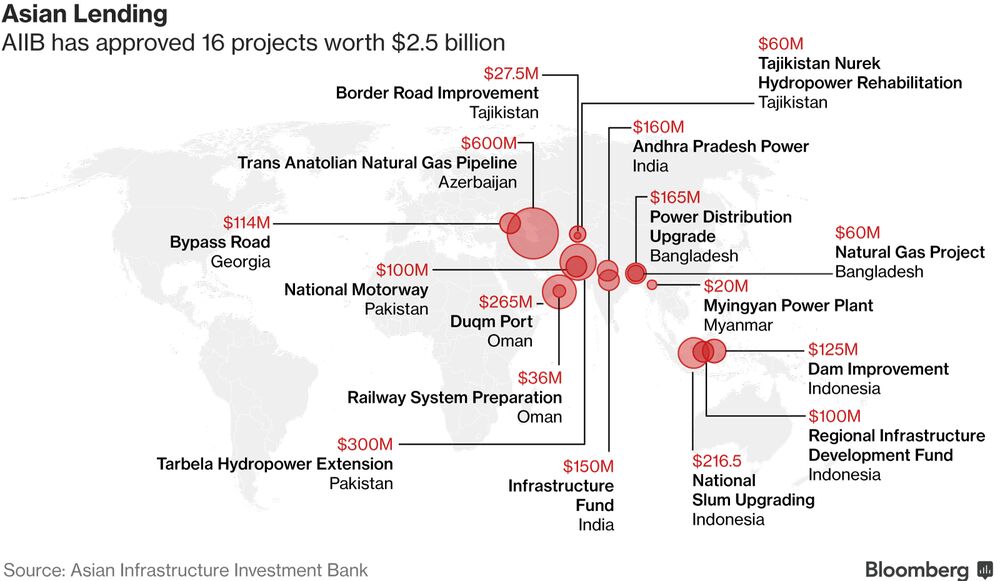 The China-led lender is now stepping up Efforts to Strengthen its credibility as a partner and alternative to the Japan-led ADB and the Washington-based World Bank. China is increasingly presenting itself as a Responsible Stakeholder of the Global Financial System, with President Xi Jinping stepping into the void created by a more inward-looking US
The AIIB welcomed Argentina, Madagascar and Tonga to its club on Friday, expanding its roster to 80 from 57 inaugural members. On Thursday the Bank approved $ 324 million in loans and investment in projects in India, Georgia and Tajikistan.
The AIIB AIMS to more than double its lending in the next five years, and has $ 6 billion to $ 7 billion of projects in the pipeline, Chief Investment Officer DJ Pandian said in an interview.
Other Key Points
AIIB can raise funds from the global market and will receive a credit rating by the end of the year, Jin said. The bank has Discussed the matter with three major rating companies and two Chinese companies
The "bank will remain open, door is always open," Jin said in response to a question on the prospect of the US and Japan joining AIIB
The decision to invest in a non-member country is up to the board of governors, he said, When asked on Whether the bank plans to invest in North Korea
There are no plans for coal projects and proposals That are Potentially harmful to the environment will not be Considered, Jin said. The bank will prioritize investment in renewable energy projects and Those That Enhance energy efficiency to reduce air pollution
Relaterat